Contest
Jojo Rabbit
Ab dem 23. Januar im Kino!



Regisseur und Drehbuchautor Taika Waititi (THOR: TAG DER ENTSCHEIDUNG, WO DIE WILDEN MENSCHEN JAGEN) stellt auch in seinem neuen Film seinen unverkennbaren, von Humor und Pathos geprägten Stil unter Beweis. In der Zweiten-Weltkrieg-Satire JOJO RABBIT wird das Weltbild eines einsamen deutschen Jungen (Roman Griffin Davis als Jojo) auf den Kopf gestellt, als er herausfindet, dass seine alleinerziehende Mutter (Scarlett Johansson) auf ihrem Dachboden ein jüdisches Mädchen (Thomasin McKenzie) versteckt. Jojo muss sich daraufhin seinem blinden Nationalismus stellen, der durch seinen idiotischen imaginären Freund Adolf Hitler (Taika Waititi) genährt wird.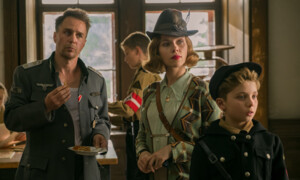 to win:
3 times 2 Tickets für den Film
Quiz question:
Wie heisst Jojos imaginärer Freund?
conditions of participation:
No obligatory purchase. No correspondence. All decisions are final. The closing date for entries is 4. February 2020. The winners will be notified in person, and their identities may be publicised. Only one contest entry per person is allowed.