Contest
«John Wick: Chapter 4» – Gagnez des pièces de monnaie du film !
Au cinéma le 22 mars!
Dans ce quatrième volet, John Wick découvre un moyen de vaincre l'organisation criminelle connue sous le nom de la Grande Table. Mais Wick n'est pas si facile à tuer. L'antihéros déchu a été récupéré par Bowery King (Laurence Fishburne), après que ce dernier ait cédé son royaume à la Chambre des Lords. Malmené et poussé par la colère, John va s'associer à Bowery King pour traquer les membres de la Haute Chambre. Afin de gagner sa liberté, Wick doit affronter un nouvel ennemi qui a tissé de puissantes alliances à travers le monde et qui transforme ses vieux amis en ennemis. Lieux de tournage : Osaka, New York, Berlin et Paris.

© Elite Film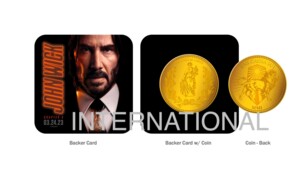 to win:
10 times 1 pièce de monnaie «John Wick»
Quiz question:
Quel est le véritable nom de John Wick ?
conditions of participation:
No obligatory purchase. No correspondence. All decisions are final. The closing date for entries is 3. April 2023. The winners will be notified in person, and their identities may be publicised. Only one contest entry per person is allowed.