Contest
Insumisas
Ab dem 6. August im Kino!



1819. Enrique Faber, ein junger Schweizer Arzt, kommt nach Kuba, um seine Tante zu finden, die er aus den Augen verloren hat. Während er die Untersuchung durchführt, eröffnet er eine ärztliche Beratung und behandelt Schwarze und Sklaven. Sein Erfolg als Arzt, seine Heirat mit einem schönen und jungen Paria aus der Umgebung wecken die grösste Eifersucht. Eines Nachts überfallen ihn drei Männer und entdecken, dass Enrique eine Frau ist. Enriqueta wird ins Gefängnis geworfen. Basierend auf einer wahren Geschichte. [Pressetext]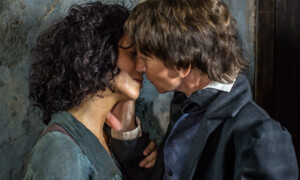 to win:
2 times 2 Tickets für den Film
Quiz question:
Wieso geht Enrique Faber 1819 nach Kuba?
conditions of participation:
No obligatory purchase. No correspondence. All decisions are final. The closing date for entries is 9. August 2020. The winners will be notified in person, and their identities may be publicised. Only one contest entry per person is allowed.