Contest
Immenhof
Ab dem 17. Januar im Kino!



Endlich Sommer! Die Mädchen vom Immenhof freuen sich auf eine unbeschwerte Zeit. Es gibt nur einen Haken – der Immenhof ist pleite und das Jugendamt steht vor der Tür, um festzustellen, ob sich die 23-jährige Charly (Laura Berlin) nach dem Tod des Vaters allein um ihre minderjährigen Schwestern Lou (Leia Holtwick) und Emmie (Ella Päffgen) kümmern kann. Noch dazu haben die Mädchen immer wieder Ärger mit dem unfreundlichen Besitzer des Nachbargestüts Jochen Mallinckroth (Heiner Lauterbach) und seiner arroganten Pferdetrainerin Runa (Valerie Huber). Die bekommt nämlich Cagliostro, den neuen Star unter den Rennpferden nicht in den Griff und gibt Lou die Schuld daran. Werden die Schwestern ihr geliebtes Zuhause retten können?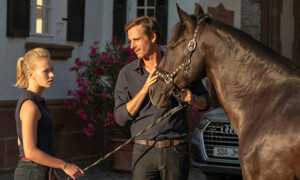 to win:
3 times 2 Tickets für den Film
Quiz question:
Was bereitet den Mädchen vom Immenhof keine Sorgen?
conditions of participation:
No obligatory purchase. No correspondence. All decisions are final. The closing date for entries is 15. January 2019. The winners will be notified in person, and their identities may be publicised. Only one contest entry per person is allowed.