Contest
Film- und Comic-Börse im Volkshaus in Zürich
Bald beginnt die 29. Film- und Comic-Börse im Volkshaus in Zürich! Gewinne 10 mal 2 Tickets.



Am Sonntag, 12.12.21 findet endlich wieder die 29. Film- und Comic-Börse im Volkshaus in Zürich statt. Nach gezwungener Covid Pause haben die Organisatoren wieder ein spannendes Programm für jüngere und ältere Filmfans zusammengestellt.
Nebst seltenen Filmplakaten, Original Star-Autogrammen, Fotos, Modellen, DVD/BluRays, Toys, Comics und allem was das Sammlerherz begehrt, werden auch viele Original und Replika Filmrequisiten, sowie Kuriositäten aus Filmen wie James Bond, Spider-Man, Star Wars, Alien, Terminator, Indiana Jones oder Batman von über 50 Ausstellern angeboten.

Eintritt nur: Fr. 5.- (Kinder bis 12 J. gratis)

Mehr Infos gibt's auf www.movieprops.ch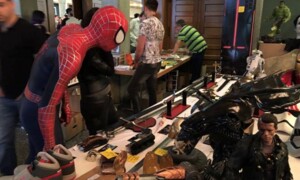 to win:
1 times 1 Tom Holland Autogramm
Quiz question:
Was wünscht sich Spiderman insgeheim?
conditions of participation:
No obligatory purchase. No correspondence. All decisions are final. The closing date for entries is 3. December 2021. The winners will be notified in person, and their identities may be publicised. Only one contest entry per person is allowed.