Contest
Fahrenheit 11/9
Ab dem 11. Oktober im Kino!



Michael Moores neuster provokanter Streich zur Ära Trump und zu den Fragen: «How the fk did this happen, and how the fk do we get out?».

Michael Moore hatte es vorausgesehen in seinem Essay vom Juli 2016: 5 Gründe warum Trump gewinnen wird. Seine Einschätzung widersprach den Prognosen der Meinungsforscher, Moore wurde als bescheuerter Untergangsprophet abgekanzelt. Doch das für unmöglich Geglaubte sollte sich bewahrheiten, als in den frühen Morgenstunden des 9.11.2016 Trumps Wahlsieg bestätigt wurde. Moore beleuchtet nun satirisch das Erbe von 11/9 und stellt die Frage, was noch alles kommen mag. Denn Trump ist ein Meister des Wahnsinns mit seinen aufhetzenden Tweets, den regelmässigen Entlassungen in seinem Stab und den mehr als offensichtlichen Lügen. Wie immer weiss man nicht genau, was man von Moore erwarten darf. Aber kommen wir doch überein, dass Fahrenheit 11/9 ein Appell an die junge Generation ist in der Hoffnung, dass diese doch bitte auszubaden vermag, was die Generation vor ihr verbockt hat.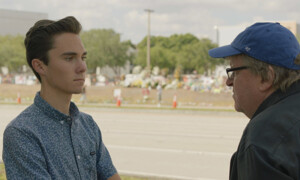 to win:
3 times 2 Tickets für den Film
Quiz question:
Was markiert das Datum 11/9?
conditions of participation:
No obligatory purchase. No correspondence. All decisions are final. The closing date for entries is 19. October 2018. The winners will be notified in person, and their identities may be publicised. Only one contest entry per person is allowed.