Contest
Doctor Strange in the Multiverse of Madness
Seit dem 04. Mai im Kino!



Guter Rat ist auch für Stephen Strange alias Doctor Strange teuer, als er die Teenagerin America Chavez vor einem Monster rettet. Offenbar besitzt das Mädchen die Gabe, zwischen unterschiedlichen Dimensionen hin- und herzuspringen. Wie genau sie ihre Fähigkeit kontrollieren kann, weiss sie jedoch nicht. Als sich der Supermagier hilfesuchend an eine Person mit Avengers-Vergangenheit wendet, erlebt er sein blaues Wunder und muss nur wenig später mit America die Flucht durchs Multiversum antreten.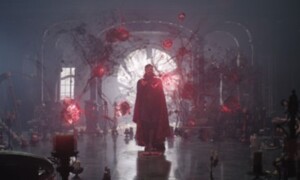 to win:
1 times 1 Fan-Package mit 1 Rucksack, 1 Bag, 2 Notizbücher, 2 T-Shirts (L, M), 2 Poster
Quiz question:
Was hat Strange geöffnet?
conditions of participation:
No obligatory purchase. No correspondence. All decisions are final. The closing date for entries is 19. May 2022. The winners will be notified in person, and their identities may be publicised. Only one contest entry per person is allowed.