Contest
Die Olchis – Willkommen in Schmuddelfing
Ab dem 22. Juli im Kino!



Der Film «Die Olchis» basiert auf den Charakteren aus den Kinderbüchern von Erhard Dietl, die der Autor auch selbst illustrierte: In Schmuddelfing ist die örtliche Müllhalde ein Dorn im Auge. Oder besser gesagt: Eine Beleidigung für die Nase. Darum schmiedet die Bürgermeisterin Pläne, wie sie diesen Schandfleck loswerden und durch etwas Gewinnbringendes ersetzen kann. Aber just in dem Moment ziehen die Olchis auf der Müllhalde ein. Sie stinken, sie essen gerne Müll, sie sind grün und liebenswert. Das merkt auch der kleine Sohn der Bürgermeisterin, der mit seiner Freundin alles daransetzt, zu verhindern, dass der Lebensraum der Olchis vernichtet wird.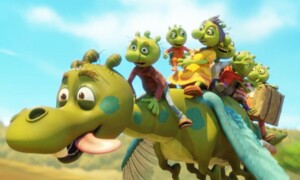 to win:
3 times 1 Filmpaket mit einem Buch zum Film, einem Mitmalbuch zum Film, zwei Tickets
Quiz question:
Was soll auf dem Platz der Müllhalde gebaut werden?
conditions of participation:
No obligatory purchase. No correspondence. All decisions are final. The closing date for entries is 25. July 2021. The winners will be notified in person, and their identities may be publicised. Only one contest entry per person is allowed.