Contest
Die Heinzels – Rückkehr der Heinzelmännchen
Ab dem 30. Januar 2020 im Kino!



Sie kehren zurück, aber völlig neu und anders: Die berühmten, fleissigen Heinzelmännchen gehen in diesem Animationsspass einem Kölner Traditionsbäcker erst auf die Nerven und dann kräftig zur Hand. Seitdem die Heinzelmännchen von der neugierigen Schneiderfrau überlistet wurden, sind sie nicht mehr gesehen worden. 200 Jahre lang leben sie nun schon unter der Erde. Doch das quirlige Heinzelmädchen Helvi erträgt diese Enge nicht mehr und macht sich auf den Weg an die Oberfläche, um dort ihr Glück und vielleicht ihre wahre Bestimmung zu finden. Begleitet von den beiden Heinzeljungs Kipp und Butz landet Helvi direkt in der wunderbar duftenden Stube des grummeligen Zuckerbäckers Theo. Der hat tatsächlich wenig Grund zum Lachen, denn sein profitgieriger Bruder Bruno ruiniert ihm mit einer modernen Backfabrik das Geschäft. Erstmal richten die Heinzels jede Menge Chaos in der Backstube an, doch dann entsteht zwischen Helvi und Theo eine echte Freundschaft, die ihm neuen Auftrieb gibt. Nach einer weiteren Auseinandersetzung mit seinem Bruder landet Theo im Krankenhaus. Für Helvi ist klar: Theo braucht Hilfe. Und wer wäre dafür besser geeignet als die Heinzelmännchen? Die Heinzelmännchen sind wieder da! Unter der Regie von Animationsspezialistin Ute von Münchow- Pohl bringen die Produzenten der Animations-Hits DER KLEINE RABE SOCKE und DIE HÄSCHENSCHULE die fleissigen Helfer dahin zurück, wo sie am meisten gebraucht werden: zu den Menschen. Die Stimmen von Stars wie Jella Haase, Louis Hofmann und Elke Heidenreich bringen das ebenso amüsante wie herzerwärmende Animationsabenteuer für die ganze Familie so richtig zum Kochen, äh Backen!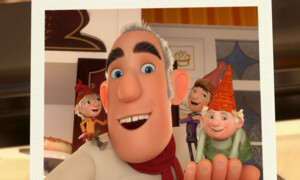 to win:
3 times 2 Tickets für den Film
Quiz question:
Welcher Unfall passiert den Heinzels während des Backens?
conditions of participation:
No obligatory purchase. No correspondence. All decisions are final. The closing date for entries is 28. January 2020. The winners will be notified in person, and their identities may be publicised. Only one contest entry per person is allowed.