Contest
Die fantastische Reise des Dr. Dolittle
Ein Abenteuerfilm für Gross und Klein mit Robert Downey Jr in der Rolle der exoterischer Dr Dolitle, der mit Tieren sprechen kann. Ab dem 30. Januar 2020 im Kino!



Auch sieben Jahre nach ihrem Tod hat der exzentrische Arzt Dr. Dolittle (Robert Downey Jr.) den Verlust seiner Frau nicht überwunden. Gemeinsam mit einer bunt zusammengewürfelten Truppe exotischer Tiere hat er sich aus der viktorianischen Welt Englands zurückgezogen und hinter den hohen Mauern seines Familienanwesens Dolittle Manor verschanzt. Als die junge Queen Victoria (Jessie Buckley) aber schwer erkrankt, muss Dolittle zunächst widerwillig sein Heim verlassen und sich auf der Suche nach einem Heilmittel auf die Reise zu einem sagenumwobenen Eiland begeben. Es ist eine gefährliche Mission, doch während er sich alten Feinden stellen muss und neuen wundersamen Kreaturen begegnet, erwachen Stück für Stück auch wieder sein Lebensmut und Witz.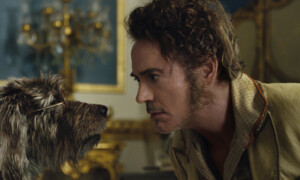 to win:
4 times 1 Hoodie (2 Hoodies 9-11 Jahre, 2 Hoodies 12-14 Jahre)
Quiz question:
Wie wird Dr. Dolittle vom Tiger Barry gennant?
conditions of participation:
No obligatory purchase. No correspondence. All decisions are final. The closing date for entries is 4. February 2020. The winners will be notified in person, and their identities may be publicised. Only one contest entry per person is allowed.