Contest
Die Eiskönigin II
Ab dem 12. März auf Blu-Ray und DVD!



Die Schwestern Anna und Elsa geniessen ihr ruhiges Leben in Arendelle. Bis eines Tages eine eigenartige Unruhe Elsa ergreift und eine geheimnisvolle Stimme sie in den Wald lockt. Zusammen mit Anna, Olaf, Sven und Kristoff bricht sie auf, das Rätsel des Lockrufs zu ergründen. Dabei trifft die Crew nicht nur das Volk des Waldes und andere neue Weggefährten, auf ihrer abenteuerlichen Reise müssen Elsa und Anna einmal mehr zusammenhalten und füreinander mit Mut, Vertrauen und Schwesterliebe einstehen.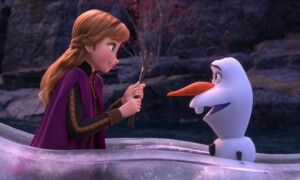 to win:
3 times 1 Blu-Ray zum Film
Quiz question:
Wie heisst der quirlige, weisse Freund von Elsa?
conditions of participation:
No obligatory purchase. No correspondence. All decisions are final. The closing date for entries is 30. March 2020. The winners will be notified in person, and their identities may be publicised. Only one contest entry per person is allowed.