Contest
Der Goldene Handschuh
Ab dem 21. Februar im Kino!



Hamburg-St. Pauli in den Siebzigerjahren: Auf den ersten Blick ist Fritz "Fiete" Honka ein bemitleidenswerter Verlierertyp. Seine Nächte durchzecht der Mann mit dem kaputten Gesicht in der Kiezkaschemme "Zum Goldenen Handschuh" und stellt einsamen Frauen nach. Keiner der Stammgäste ahnt, dass der scheinbar harmlose Fiete in Wahrheit ein Monster ist.

Fatih Akins Film Der Goldene Handschuh basiert auf dem wahren Fall und dem gleichnamigen Roman von Heinz Strunk. Er erzählt die Geschichte des Frauenmörders Fritz Honka und seiner Stammkneipe, "Zum Goldenen Handschuh", in der deutsche Schlager zu Tränen rühren und der Suff gegen Sehnsucht und Schmerz helfen soll.

Mehr Informationen zum Film unter www.instagram.com/warnerfox_ch
und www.facebook.com/WarnerBrosSchweiz/.

© 2019 Warner Bros. Ent. All Rights Reserved.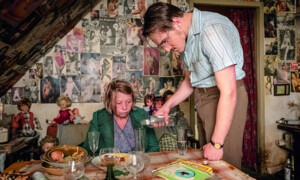 to win:
3 times 2 Tickets für den Film
Quiz question:
Was ist der goldene Handschuh?
conditions of participation:
No obligatory purchase. No correspondence. All decisions are final. The closing date for entries is 21. February 2019. The winners will be notified in person, and their identities may be publicised. Only one contest entry per person is allowed.