Contest
Cry Macho
Ab dem 21. Oktober im Kino!





Mit «Cry Macho» von Warner Bros. Pictures legt Regisseur und Produzent Clint Eastwood ein ergreifendes und zugleich mitreissendes Drama vor. Eastwood selbst spielt Mike Milo, einen ehemaligen Rodeo-Star und gescheiterten Pferdezüchter, der 1979 im Auftrag seines Ex-Bosses nach Mexiko reist, um dessen kleinen Sohn nach Hause zu bringen. Weil das ungleiche Paar den Heimweg nach Texas über Nebenstrassen zurücklegen muss, entpuppt sich die Reise als überraschend beschwerlich. Und doch gelingt es dem desillusionierten Pferdefreund, unterwegs unerwartete Verbindungen zu knüpfen – und seinen eigenen Seelenfrieden zu finden. [Pressetext]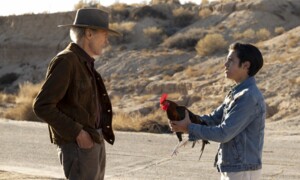 to win:
5 times 2 Tickets für den Film
Quiz question:
Wie heisst das im Film erwähnte Pferderennen?
conditions of participation:
No obligatory purchase. No correspondence. All decisions are final. The closing date for entries is 21. October 2021. The winners will be notified in person, and their identities may be publicised. Only one contest entry per person is allowed.