Contest
Bombshell
Ab dem 23. Januar 2020 im Kino!



Megyn Kelly (CHARLIZE THERON) ist das Aushängeschild von Fox News: blond, attraktiv, sexy. Schöne Beine sind bei dem konservativen Nachrichtensender gefragter als investigativer Journalismus und unbequeme Fragen. Als sich die Starmoderatorin vor laufenden Kameras mit Präsidentschaftsbewerber Donald Trump anlegt, hat sie keine Rückendeckung von oben zu erwarten: Senderchef Roger Ailes (JOHN LITHGOW) ist mit Trump befreundet, ausserdem beschert der Krawallkandidat Fox News Topquoten – so auch mit seiner sexistischen Twitter-Kampagne gegen Megyn. Ihre gestandene Kollegin Gretchen Carlson (NICOLE KIDMAN) weigert sich, noch länger die «TV-Barbie» zu geben. Daraufhin wird ihr Vertrag «wegen enttäuschender Einschaltquoten» nicht verlängert – während die ehrgeizige Redakteurin Kayla Pospisil (MARGOT ROBBIE) nach einem Meeting hinter Roger Ailes' verschlossener Bürotür aufsteigt...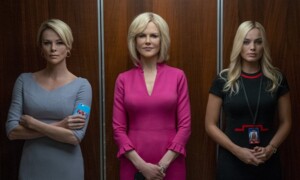 to win:
3 times 2 Tickets für den Film
Quiz question:
Bei welchem amerikanischen TV-Sender spielt sich die Geschichte in «Bombshell» ab?
conditions of participation:
No obligatory purchase. No correspondence. All decisions are final. The closing date for entries is 21. January 2020. The winners will be notified in person, and their identities may be publicised. Only one contest entry per person is allowed.