Contest
Alpha
Ab dem 6. September im Kino!



Vor 20.000 Jahren, während der letzten Eiszeit: Die erste Jagd mit der Elite seines Stammes nimmt für einen jungen Mann (Kodi Smit-McPhee) ein entsetzliches Ende: Schwer verletzt stürzt er eine Schlucht hinunter und wird von seinen Männern als tot geglaubt zurückgelassen. Als er verwundet und allein wieder zu Bewusstsein kommt, muss er sich augenblicklich der rauen, erbarmungslosen Wildnis stellen, um auch nur die geringste Chance des Überlebens zu haben. Auf seinem Weg begegnet er einem einsamen Wolf, den er unter grösstem Widerstand versucht zu zähmen. Langsam nähert sich das ungleiche Paar an und fasst Vertrauen, bis sie sich schliesslich gemeinsam den Gefahren und Herausforderungen der skrupellosen Natur stellen – denn der tödliche Wintereinbruch naht…

© Sony Pictures Switzerland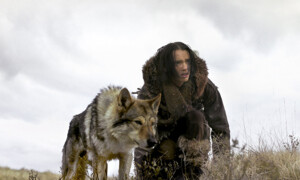 to win:
5 times 2 Tickets für den Film
Quiz question:
In «Alpha» entwickelt sich nach einem tragischen Ereignis eine tiefe Freundschaft zwischen Mensch und Tier. Welchem?
conditions of participation:
No obligatory purchase. No correspondence. All decisions are final. The closing date for entries is 4. September 2018. The winners will be notified in person, and their identities may be publicised. Only one contest entry per person is allowed.