Contest
«Aller Tage Abend»
Vorpremiere am Ostermontag 10. April um 18.30 Uhr im Houdini in Anwesenheit des Regisseurs Felix Tissi.
Ab dem 13. April 2023 in den Schweizer Kinos.


Eine skurrile Mär über das Alter. Sie sucht den Sinn im Unsinn und findet eine verkehrte Welt: Irma und Henri leben den grossen Traum der ewigen Liebe. Aber bereits die kleinste Veränderung kann böse enden. Leopold und Alex lernen einander bei einem Autounfall kennen. Wie es zu diesem Unfall gekommen ist, weiss Alex allerdings nicht. Nach einem Leben in Haft findet sich ein Knastbruder in der Freiheit nicht mehr zurecht. Dafür gewinnt er das Herz einer schönen Blumenfrau. Vor lauter Mitgefühl bricht der betagte Arzt Johann beim Anblick von Krankheit und Leid in Tränen aus. Nicht selten hilft das seinen Patienten. Nur einem passt das gar nicht: dem Tod.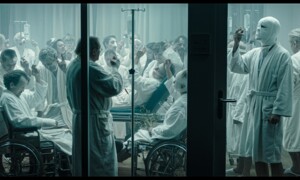 to win:
3 times 2 Tickets für die Vorpremiere in Anwesenheit des Regisseurs Felix Tissi
Quiz question:
Weshalb gibt es uns Menschen? (Der Trailer beantwortet dir diese Frage)
conditions of participation:
No obligatory purchase. No correspondence. All decisions are final. The closing date for entries is 24. March 2023. The winners will be notified in person, and their identities may be publicised. Only one contest entry per person is allowed.