Contest
A Private War
Ab dem 13. März auf Blu-Ray und DVD!



Marie Colvin (Rosamund Pike), die berühmteste Kriegsreporterin unserer Zeit, setzt ihr Leben an den umkämpften Fronten aufs Spiel um der Welt das hässliche Gesicht des Krieges zu zeigen. Auch ein Anschlag auf ihr Leben in Sri Lanka, durch welchen sie schwer verletzt wird, hält sie nicht auf weiter über die Schicksale der Menschen zu berichten. Zwischen Luxusleben und Krieg führt sie ihr letzter Auftrag zusammen mit dem renommierten Kriegsfotografen Paul Conroy (Jamie Dornan) zu dem gefährlichsten Ort der Welt, in die belagerte syrische Stadt Homs.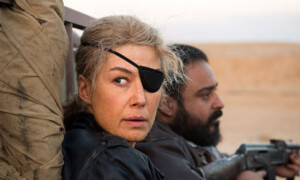 to win:
3 times 1 DVD sowie 3 mal 1 Blu-Ray zum Film
Quiz question:
Wo fand ein Anschlag auf Marie Colvins Leben statt?
conditions of participation:
No obligatory purchase. No correspondence. All decisions are final. The closing date for entries is 21. March 2019. The winners will be notified in person, and their identities may be publicised. Only one contest entry per person is allowed.