Contest
007: «No Time to Die»
Ab dem 30. September im Kino!





James Bond (Daniel Craig) hat seine Lizenz zum Töten im Auftrag des britischen Geheimdienstes abgegeben und geniesst seinen Ruhestand in Jamaika. Die friedliche Zeit nimmt ein unerwartetes Ende, als sein alter CIA-Kollege Felix Leiter (Jeffrey Wright) auftaucht und ihn um Hilfe bittet. Ein bedeutender Wissenschaftler ist entführt worden und muss so schnell wie möglich gefunden werden. Was als simple Rettungsmission beginnt, erreicht bald einen bedrohlichen Wendepunkt, denn Bond kommt einem geheimnisvollen Gegenspieler auf die Spur, der im Besitz einer brandgefährlichen neuen Technologie ist. [Pressetext]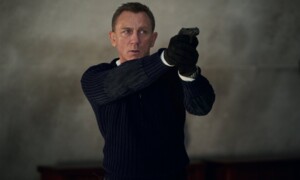 to win:
3 times 1 Regenschirme, 3x1 Wasserflasche, 1x1 Rucksack, 1x1 Weekend Bag
Quiz question:
«Früher sass der Feind noch mit uns in einem Raum. Heute schweben sie nur noch durch ...»
conditions of participation:
No obligatory purchase. No correspondence. All decisions are final. The closing date for entries is 24. October 2021. The winners will be notified in person, and their identities may be publicised. Only one contest entry per person is allowed.