Soyez de la partie : Sky diffuse «House of the Dragon» sur grand écran avant sa sortie officielle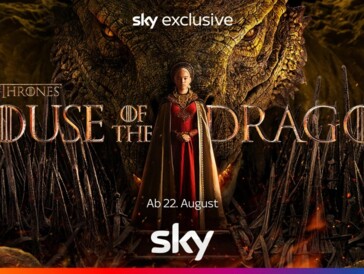 Sky présentera le 18 août prochain à 20 h 00 sur grand écran le premier épisode de la série HBO «House of the Dragon» avant même sa sortie officielle. Alors voici comment faire partie de l'évènement.
À l'occasion du lancement par HBO de «House of the Dragon», série préquelle de «Game of Thrones», Sky Suisse a eu une idée de proposer aux fans l'opportunité de découvrir le premier épisode en avant-première, et avant même sa sortie mondiale le 22 août.
Ainsi, le 18 août prochain et dans 6 villes suisses, la communauté «Game of Thrones» aura l'occasion de se plonger avant tout le monde dans l'univers de la maison Targyryen et de la lutte pour la domination de Westeros.
Date de l'évènement : Jeudi 18 août 2022.
Retrait des billets : dès 19 h 00, et début de la séance à 20 h 00 (version anglaise sous-titrée en allemand).
Notez que des billets gratuits seront à récupérer entre 19 h 00 et 19 h 45 aux caisses des cinémas concernés et seront attribués selon le principe du "premier arrivé, premier servi" (et sous la condition de 1 billet par personne).
Le lundi 8 août, il sera aussi possible de gagner 100 places fixes sur la page Instagram de @skyshowch.
Les cinémas concernés sont :
Zurich : blue Cinema Corso - Theaterstrasse 10
Berne : cineCamera - Seilerstrasse 8
Bâle : Pathé Küchlin - Steinenvorstadt 55
Lucerne : blue Cinema Capitol - Zentralstrasse 45
Winterthur : blue Cinema Maxx - Zürcherstrasse 1
Saint-Gall : blue Cinema Scala - Bohl 1
«House of the Dragon» sera à découvrir dans la nuit du 22 août sur Sky Show.
La rédaction vous recommande aussi :
Is this article worth reading?