«Bones and All» - Romance cannibale avec Timothée Chalamet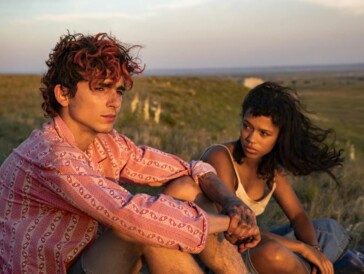 © Warner Bros. Entertainment Switzerland GmbH
Le réalisateur italien Luca Guadagnino poursuit son aventure américaine avec une histoire d'amour entre cannibales, pour laquelle il a été récompensé du prix de la mise en scène à la 79e Mostra de Venise.
(Une critique de Damien Brodard)
Après le coup de projecteur international que fut «Call Me By Your Name» (2018), Luca Guadagnino continue à porter son regard sensible sur de jeunes adultes. Ses deux nouveaux protagonistes s'abandonnent ici à une errance lancinante, fuyant une société dans laquelle ils sont considérés comme des parias, des marginaux monstrueux. En un sens, le récit n'est pas sans rappeler des œuvres comme «La ballade sauvage» (1973) ou «Bonnie & Clyde» (1967), mais le réalisateur réussit à dynamiser son roadmovie avec une surprenante pointe d'horreur.
Cette histoire, somme toute classique, rend tout de même captivante cette romance cannibale, souvent étrange, mais étonnamment touchante. Si les quelques séquences de dégustation en rebuteront certains, elles ne sont toutefois pas au cœur du film qui s'y attarde plutôt de manière métaphorique, notamment pour exprimer le désir de ses personnages. Guadagnino joue donc sur la limite du fantastique en tombant parfois dans la surenchère caractéristique du genre, mais jamais de manière rédhibitoire.
Un tel postulat nécessite donc des interprètes à la hauteur du défi. D'un côté, Taylor Russell, récompensée à Venise pour son interprétation, jeune femme torturée en quête d'identité qui offre une prestation saisissante ; de l'autre Timothée Chalamet, fidèle à lui-même tout en dégageant cette fois-ci une aura sauvage et mystérieuse. Il faut également saluer l'impeccable Mark Rylance qui sort de sa zone de confort pour camper un second rôle aussi magnétique que terrifiant.
Tout ce petit monde est bien mis en valeur par le metteur en scène qui parvient tantôt à prendre le pouls d'une jeunesse torturée de manière intimiste, tantôt à capter leur envoûtante perdition dans d'immenses espaces américains, mais aussi à procurer quelques sensations fortes, même si ce n'est pas là qu'il brille le plus. Entre romance viscérale et roadmovie poétique, «Bones and All» surprend et fascine, à l'image de ses protagonistes.
3,5/5 ★
Le 23 novembre au cinéma.
Plus d'informations sur «Bones and All»
Bande-annonce
La rédaction vous recommande aussi:
Is this article worth reading?