In horror movies, they are the girl next door, the babysitter, the girlfriend, the cheerleader – and often they are the last one standing. This Halloween, let us celebrate the greatest examples of movie Scream Queens.
By Gabriela Tscharner Patao
When Ella Lanchester's character in «The Bride of Frankenstein» screamed when first laying eyes on the monster, in disbelief of her situation and disapproving of her victim status, the Scream Queen was born. They are girls who are beautiful, yet approachable, they are women in danger, who know how to help themselves and emerge victorious at the end of a horror film.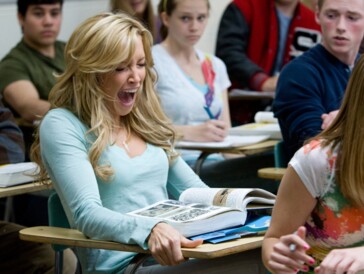 From damsels in distress to feminist icons, the Scream Queens or Final Girls have come a long way since King Kong lifted up a screaming Fay Wray in the 1933 film. A good reason to celebrate all the courageous heroines of the genre, women who did not hide in the basement to await their gory death by a deranged killer.
These girls do not just lay down and die, they pick up a kitchen knife or chain saw and confront their tormentor like the queens that they are. Here's a look at some of the toughest Scream Queens of the screen.
Janet Leigh in «Psycho» and Jamie Lee Curtis in the «Halloween» series
With one of the most successful horror film franchises coming to an end, it's about time to pay tribute to the only mother/daughter duo among the Scream Queens. Janet Leigh in «Psycho» (1960) und Jamie Lee Curtis in the «Halloween» series
(1978-2022). The mother was a traditional Hitchcock blonde, one of the many of the director's flaxen-haired leading actresses portraying damsels in distress. In «Psycho» Leigh plays Marion Crane, a secretary on the run after she steals $40,000 from work, who checks into a seedy motel for the night. There she has a fateful run-in with the psychotic killer Norman Bates, the motel owner, who stabs her multiple times while she is taking a shower.
Crane is a traditional victim who, even after Bates' first stabs don't strike any major organs or arteries, spoiler alert she doesn't defend herself against her assailant. Regardless, the 3-minute-scene, filled with Janet Leigh's most blood-curdling screams, has become a cult classic and one of Hitchcock's most studied. It established her as one of Hollywood's most famous Scream Queens.
Watch it on Apple TV+
Until her daughter Jamie Lee Curtis at the tender age of 19 took over that crown as Laurie Strode, an innocent baby sitter who would end up fighting the masked killer Michael Myers for the next 44 years in seven films of the «Halloween» franchise. John Carpenter and Debra Hill's first film in the series was inspired by Hitchcock's «Psycho» and established Laurie as a young innocent 17-year-old High School student who becomes a killer's obsession.
She manages to save the two children she babysits from Myers' attack, while she is saved by their father Dr. Loomis. Over the next forty years Laurie becomes increasingly traumatized by the attacks of her stalker, but never surrenders to him. Like a true child of the women's lib movement, Laurie becomes her own savior and, in the course of seven movies, shoots Michael between the eyes, sets him on fire, stabs him and in her final showdown crushes him with a fridge in true Scream Queen fashion.
Watch it on Prime Video
Adrienne Barbeau in «The Fog»
John Carpenter continued making films revolving around empowered Scream Queens when in 1978 he met actress Adrienne Barbeau while shooting the TV-thriller «Someone's Watching Me!» and the two fell in love. They collaborated on «Escape From New York» and «The Fog», films that established Barbeau as a smart, strong and focused Scream Queen who refuses to be a victim. In the supernatural horror thriller «The Fog» Barbeau plays a radio DJ who is forced to fight an onslaught of killer ghosts and sailors who have died in a shipwreck and are now terrorizing a quaint little town in northern California to avenge their deaths.
From her radio studio, situated on top of the town's lighthouse, she not only steers everyone away from danger, Barbeau's Stevie Wayne also fights the attackers on the light house roof, high above the cliffs over the ocean. The cult status of the movie long survived Barbeau and Carpenter's relationship. They divorced in 1984, but she's been playing Scream Queens often since. Barbeau is in her 70s now and has appeared in TV-shows like Ryan Murphy's «American Horror Stories».
Watch it on Apple TV+
Heather Langenkamp in «A Nightmare on Elm Street»
Another must-see film in the Scream Queen genre is Wes Craven's «A Nightmare on Elm Street». The 1984 cult hit features Heather Langenkamp as Nancy, a teenager haunted by a demon arisen from her dreams named Freddy Krueger, a creature with bad fashion sense and razor-sharp claws. Even though the film is mostly known as Johnny Depp's first movie, it's worth revisiting for its themes like teenage anxiety and struggle with sexuality. Langenkamp, who is rumored to have beaten out stars like Demi
Moore, Courtney Cox or Jennifer Grey for the part, reprises her role as Nancy in «A Nightmare on Elm Street 3: Dream Warriors» (1987), in which she stabs Freddy with his own glove, and returns in «Wes Craven's New Nightmare» (1994). Langenkamp just recently starred in Netflix' «The Midnight Club», in which she plays a doctor who runs a hospice for terminally ill youngsters.
Jennifer Love Hewitt in «I Know What You Did Last Summer»
In the 1990s, with franchises like «Scream» or «I Know What You Did Last Summer», horror was portrayed in a rather satirical manner, often winking at its various tropes like the Scream Queen. In the latter movie Jennifer Love Hewitt's Julie James and her three friends are tormented by a supposedly dead fisherman swinging an enormous metal hook. Julie's glass- shattering screams are some of the best in the genre and make her a worthy Final Girl.
Hewitt also stars in the 1998 sequel «I Still Know What You Did Last Summer», in which Julie fights the fisherman's offspring, only to solidify her status as a Scream Queen in 2005, playing a psychic medium who talks to the dead in the long-running TV-show «Ghost Whisperer».
Watch it on Apple TV+
Amanda Seyfried in «Jennifer's Body»
Anita "Needy" Lesnicki may be an insecure teen living in a small town, but this girl knows no fear. When her best friend Jennifer is mutilated by a group of men and their ritual turns her into a soul-sucking succubus, Needy is one of the only Scream Queens who has to battle a woman to survive. And that she does, even though the act lands her in jail for murdering her best friend. Initially marred by the critics as a «Twilight» for boys, it has since been discovered by Gen Z as a forgotten feminist classic and a queer horror film with a bisexual Scream Queen at its center.
Watch it on Disney Plus
Florence Pugh in «Midsommar»
When an American couple and their friends travel to Sweden to study a traditional midsummer celebration, Florence Pugh's character Dani quickly realizes that the ancestral commune organizing the festival is anything but benign. While she and her boyfriend have had problems in their relationship, Christian and his colleague Josh are too preoccupied with fighting over who is plagiarizing whose work to see that they are in danger.
When the commune is choosing eight people as a human sacrifice to purge the cult from evil, Dani isn't victimized. Instead, she is chosen as May Queen and she elects to rid herself of the bad vibes in her life. In this modern-day fairy tale, the Scream Queen deals with grief, relationship problems and toxic masculinity, which makes it the perfect metaphor for life today.
Watch it on Apple TV+
Ist dieser Artikel lesenswert?