The 2011 m&m's Movie Charts: A re-release!
A roaring surprise! The largest film jury in Switzerland evaluated 213 movies and has chosen. The 3D update of The Lion King is the best movie of 2011 with 4.55 m&m's. In second place is the Argentinean love story Medianeras, with the third spot going to the best Swiss movie of 2011: Der Verdingbub, Markus Imboden's look at a dark chapter in Switzerland's history.

The flop of the year comes from Germany, with the least points going to Werner - Eiskalt.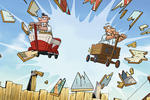 The Flop of 2011
In 213th place:
The jokes fall flat. This mix of live action and animation starring a beer-swilling slob is the Worst Movie of 2011.
The competition included all movies shown in Swiss theaters between December 15, 2010 and December 15, 2011 with more than 20 evaluations. Click here for the complete ranking list.
And don?t forget: the m&m's Movie Charts are on every year. Submit your evaluations here and win!


All jury members of 2011 were entered in a draw for a Fiat 500C valued at CHF 28,250. The winner will be announced here soon.