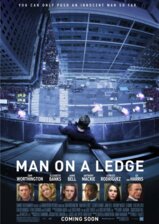 USA 2012
Crime, Thriller
102min
3.8
Ex-cop Nick (
Sam Worthington
) breaks out of jail. A few hours later he's on the ledge of a high-rise, threatening to jump. Gawkers gather, the police arrives and Detective Anderson (
Elizabeth Banks
) is sent to bring him in off the ledge. But while Nick is getting all the attention, he's also masterminded the heist of the $30 million diamond he was sent to jail for stealing.
Go to movie review from Peter Osteried
Die Anlaufstelle für Unterhaltung - denn schneller gehts nicht günstiger!
&nbsp
Der Weltbild Verlag ist der grösste Medienversender in der Schweiz.
Keine Artikel zum Suchbegriff «Man on a Ledge» gefunden
&nbsp