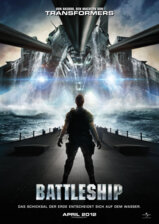 USA 2012
Action, Sci-fi, Thriller
131min
3.5
A fleet of international warships carrying out naval exercises come up against a strange metal craft in the middle of the Pacific Ocean. Admiral Shane (
Liam Neeson
), whose crew includes Alex Hopper (
Taylor Kitsch
), his brother Stone (
Alexander Skarsgård
) and Raikes (
Rihanna
), decides to investigate the object. It turns out to be a huge machine housing an alien race called Regents. Armed with superior technology, the Regents are here for the Earth's resources and attack immediately after first contact. Admiral Shane and his crew counter attack, launching a bloody battle that soon spreads to land and air.
Go to movie review from Cindy Hertach
Der Weltbild Verlag ist der grösste Medienversender in der Schweiz.
&nbsp
Die Anlaufstelle für Unterhaltung - denn schneller gehts nicht günstiger!
&nbsp