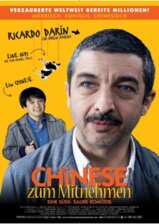 Argentina, Spain 2011
Drama
93min
4.0
In China, Jun watches his fiancé die in front of him, crushed by a horse fallen from the sky. On the other side of the world in Buenos Aires, Roberto (
Ricardo Darin
), an anal retentive hardware store owner who lives a very ordered life, loves to collect strange stories from the newspapers. His life takes its own odd turn when Jun arrives in Argentina and asks Roberto for help. In a hurry to get back to his regular life and annoyed by Jun's unexpected presence, Roberto helps him track down a long lost uncle. But their collaboration soon leaves cracks in Roberto's reclusive shell...
Go to movie review from Agathe Tissier
Die Anlaufstelle für Unterhaltung - denn schneller gehts nicht günstiger!
&nbsp
Der Weltbild Verlag ist der grösste Medienversender in der Schweiz.
Keine Artikel zum Suchbegriff «Un cuento chino» gefunden
&nbsp