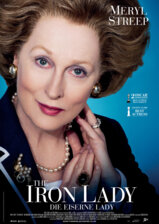 France, UK 2011
Drama
105min
3.7
Now in her 80's and suffering from senile dementia, Margaret Thatcher reminisces about her modest social origins and her acceptance to Oxford, meeting her husband, having two children and entering into politics, of her election to the head of the British government in 1979 and her defeat in 1990. As she thinks back, the former prime minister refuses to accept the death of her adored husband, gone since 2003...
Go to movie review from Constantin Xenakis
Die Anlaufstelle für Unterhaltung - denn schneller gehts nicht günstiger!
&nbsp
Der Weltbild Verlag ist der grösste Medienversender in der Schweiz.
&nbsp