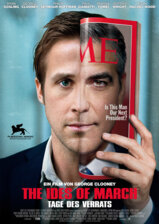 USA 2011
Thriller
98min
3.6
Stephen Meyers (
Ryan Gosling
) is a campaign staffer for democratic candidate Mike Morris (
George Clooney
), who is running in the primary to see who the party will send to the race for the US presidency four years later. Young, idealistic and talented, Meyers defends his leader body and soul, convinced he's betting on the right horse. Contacted by the opposition to temp him away from the Morris campaign, Meyers realizes he has to place his pawns very strategically and decide once & for all where his political career is going...
Go to movie review from Agathe Tissier
Der Weltbild Verlag ist der grösste Medienversender in der Schweiz.
&nbsp
Die Anlaufstelle für Unterhaltung - denn schneller gehts nicht günstiger!
&nbsp