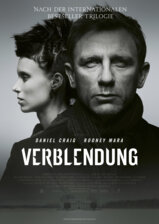 Germany, Sweden, UK, USA 2011
Drama, Thriller
158min
4.0
Mikael Blomkvist, investigative journalist and co-editor of the socio-economic magazine Millennium, is indicted for libel after writing an accusatory article about a Swedish businessman: his sources and proof turn out to be falsified. As he waits for judgment to be pronounced on him, he accepts a job to investigate the 40-year-old disappearance of a rich man's niece. In exchange, the man promises to double Blomkvist's salary and give him proof of the businessman's culpability...
Go to movie review from Constantin Xenakis
Die Anlaufstelle für Unterhaltung - denn schneller gehts nicht günstiger!
&nbsp
Der Weltbild Verlag ist der grösste Medienversender in der Schweiz.
&nbsp