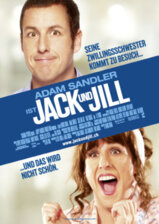 USA 2011
Comedy
91min
2.6
Jack (
Adam Sandler
) has the perfect life: a successful job, a wonderful family and a loving wife. But his sister Jill (
Adam Sandler
) threatens to disturb his idyllic Thanksgiving like every year – just by visiting. Her annoying personality and her constant neediness drive Jack crazy and ruin his day in a matter of hours. Jack decides to set her up on a date to get rid of her. Astonishingly enough,
Al Pacino
plays Mr. Right.
Go to movie review from Peter Osteried
Die Anlaufstelle für Unterhaltung - denn schneller gehts nicht günstiger!
&nbsp
Der Weltbild Verlag ist der grösste Medienversender in der Schweiz.
&nbsp