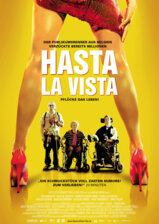 Belgium 2011
Comedy, Drama
115min
3.7
Of all the handicaps shared by three young Flemish men, the only one they can actually do anything about is their virginity. And neither blindness, wheelchairs nor least of all parents will stop them, even if their own safety is involved. Accompanied by a grumpy nurse, they leave for Spain along the wine route. Their final destination: El Cielo, a brothel recommended by a handicapped friend. If life has to be short, at least do it in style. And if you have to be stuck in a chair, at least in the back of a vintage minibus leaving for the 1001 pleasures of the south.
For the last hermits of the year who haven't yet had the chance to laugh at
Intouchables
or the plight of the disabled in general. This Flemish version by
Geoffrey Enthoven
stars three touching young disabled men who tease each other throughout the film, with a raft of hilarious scenes, biting humor and an irresistible accent. The issue of sexuality is approached with finesse and applies to all virgins, mobile or not.
Go to movie review from Agathe Tissier
Release date: 12.07.2012 (German Switzerland) - 20.06.2012 (Romandie)
User Reviews
0 User Reviews

Watchlist
2 user have published their watchlist
Now in cinemas
5 from 77 Films