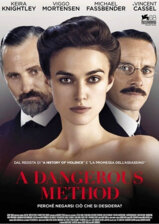 Canada, Germany, Switzerland, UK 2011
Drama, Thriller
99min
3.2
In 1904, Sabina Spielrein, a young woman struck by mental illness, is brought to Carl Gustav Jung. By talking through her problems and applying the theories of Sigmund Freud, the Swiss psychiatrist manages to help her recover. When Jung and Freud meet two years later, the latter sees his colleague as a suitable heir to his philosophy. They become friends, although Freud remains somewhat paternalistic, and when he finds out about Jung's relationship with Spielrein, Freud is greatly disappointed. The situation gets worse when Spielrein, hurt by Jung's cowardice and his humiliation at the hand of Freud, decides to make contact with Freud...
Go to movie review from Valérie Lobsiger
Der Weltbild Verlag ist der grösste Medienversender in der Schweiz.
&nbsp
Die Anlaufstelle für Unterhaltung - denn schneller gehts nicht günstiger!
&nbsp